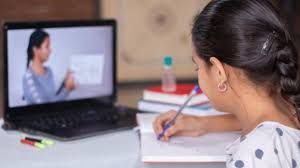 We are fast approaching the one-year mark of school closures due to the pandemic. Crazy! I remember
preparing for online instruction during the H1N1 scare of 2009. Fortunately, we never had to make the
transition to an online model during that time. However, the urgency of being prepared for the worst
certainly compelled us to quickly fine tune some skills that otherwise would not have been practiced.
That same urgency to adapt has been a trademark of the COVID pandemic. While there will be many
things that we will not miss after this all plays out, there absolutely are practices we have picked up that
are keepers. My favorite is walking into a class and seeing a few virtual students on the board who have
"zoomed" into the class and are participating alongside their in-person classmates in the discussion and
learning. I am inspired by the way everyone has improved upon their A game. Sometimes a little urgency
isn't all that bad!