---
ATTENTION Parents of Kindergarteners for the
2023-2024 School Year
Dear Parents and Constituents,
Millard School District is pleased to be able to offer full-day kindergarten to all kindergarten aged students beginning with the 2023-2024 school year. Teachers have been hired and preparations are being made to accommodate all who wish to attend.
We will also offer the option of a half-day kindergarten which will be in the AM only. Students will be assigned to a regular kindergarten class but will be excused at midday. There will be an emphasis on critical kindergarten skills in the morning with time for interventions and extensions in the afternoon.
Because Millard School District is now designated as a Full-Day Kindergarten Program, transportation will be adjusted as follows.
All full-day kindergarten students will ride to and from school on existing routes.
Students who opt to attend half-day kindergarten will be eligible for transportation in the morning.
Midday transportation will depend on the number of students on each eligible route. (State funding is only available for routes with 10 or more students)
Transportation will be provided if there are 10 or more students on an eligible route.
If there are fewer than 10 students, parents will assume the responsibility of transporting their students at midday.
For more information about the benefits of full-day kindergarten, please visit this link.
Please note, preschool students do not receive funding for transportation and will therefore not be included in the midday count. However, if there is a midday bus available, preschool students may be transported. If no bus is available, parents will be responsible for midday transportation.
If you have further questions or concerns, please feel free to contact your school.
Fillmore Elementary (435) 743-5670
Delta South Elementary (435) 864-5670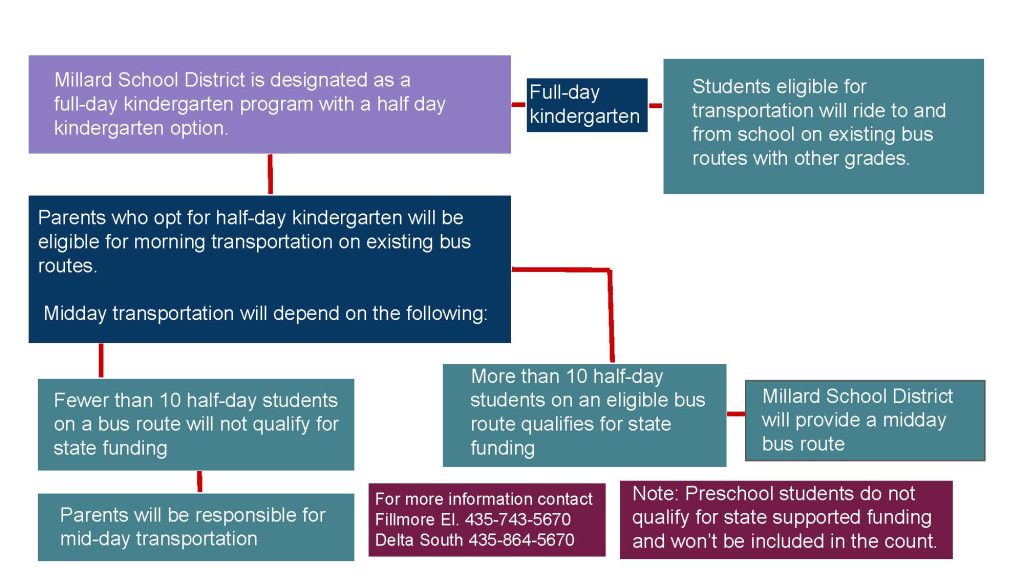 ---
School-Day-Schedule


opens PDF file
Bunny Bulletins
Essential Standards/Skills
Preschool
Kindergarten
First Grade