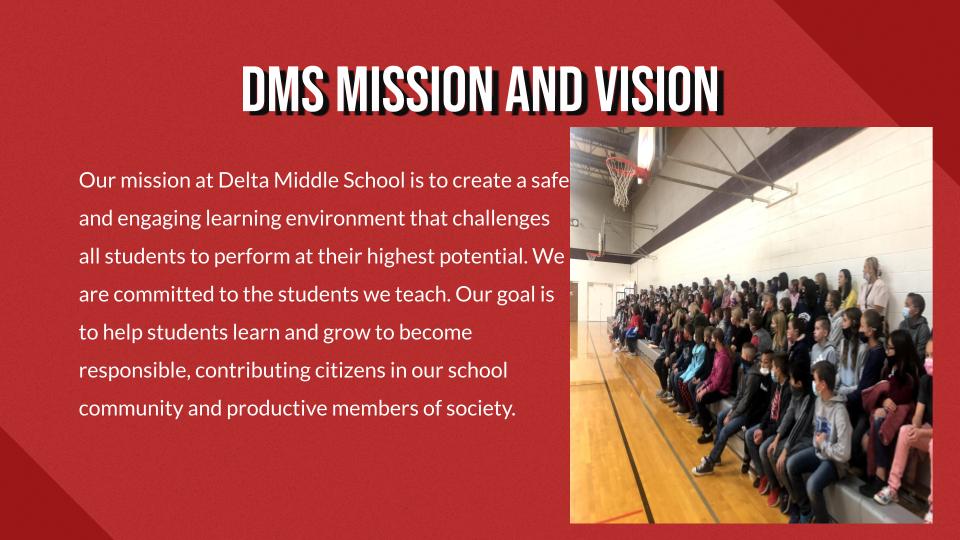 Delta Middle School is comprised of approximately 470 students in the sixth, seventh, and eighth grades and is located in Delta, Utah. Our students come from the City of Delta and several smaller surrounding communities in Millard County.
DMS has a dedicated staff of twenty-six teachers, nine instructional assistants, and eleven additional support personnel that combine to make Delta Middle a clean, inviting intellectually stimulating place. All are very qualified and dedicated to our students, whom we believe are among the finest anywhere.
These students and their supportive parents are the components that are the secret to success at Delta Middle. Students, parents, faculty, and staff all work together to ensure that our students receive a first-rate education. Personal responsibility, character, discipline, academics, and fun are all part of the process at Delta Middle School. We work hard and we play hard. Our students excel in a multitude of areas, and we are very proud of their accomplishments. We invite our parents to be a central part in the education of their children. Our minimum expectation is that our parents ask their students what they were taught in each class each day.
Our expectations for ourselves are high, and our goal is to continually improve. We hope this web page is helpful to you as you look at the programs and activities that are taking place at DMS. We invite parents to use the PowerSchool link to get an accurate picture of how their student is achieving in class as of today. If you have questions or comments, please feel free to contact me at the school at any time.