---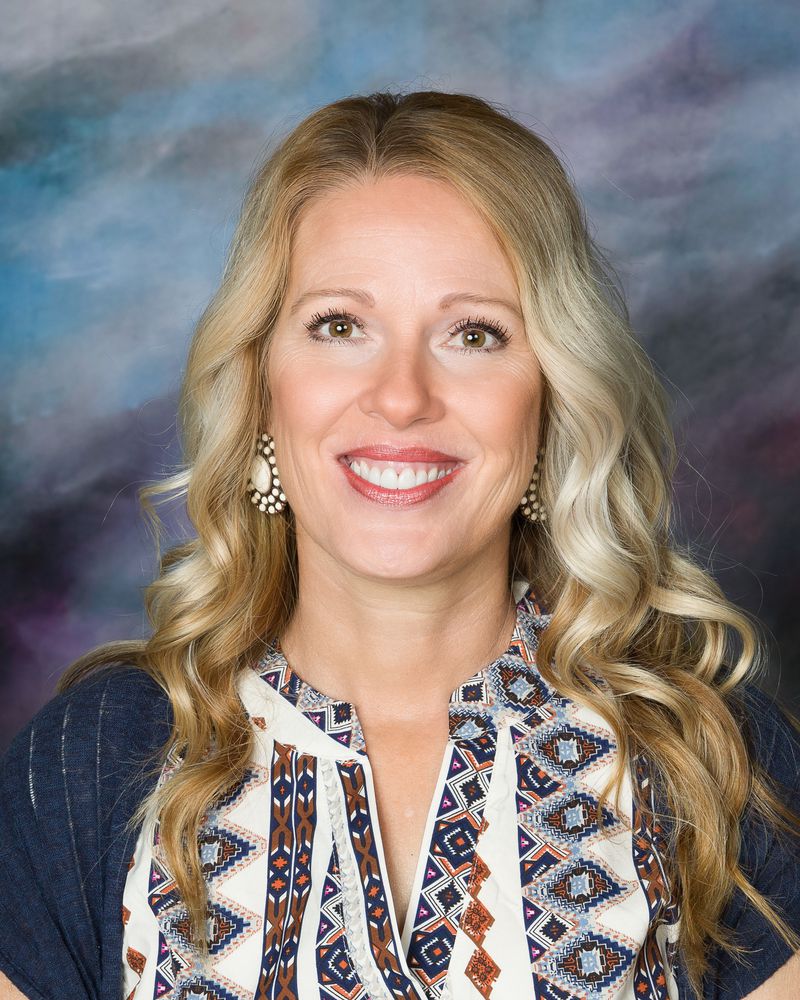 Mrs. Misty Day Selected as
Millard School District's
Teacher of the Year for 2023-2024
Delta North Elementary School and Millard School District have selected Mrs. Misty Day as Teacher of the Year. Mrs. Day embodies all that a teacher of the year represents. Misty Day is everything beautiful that comes with a name like that. She is kind, generous, thoughtful, has a heart of gold, and loves teaching.
Misty began her career in Hildale, Utah teaching second grade then at Panorama Elementary in Washington, Utah. She then took time off to raise her family and returned to teaching in 2010 in kindergarten at Delta South Elementary School, later moving back to second grade.
Misty is a champion educator. She has a strong desire to change children for the good. She is an amazing reading teacher, loves science, and gives her everything to children. She strongly believes in what she is teaching and will hold fast to those beliefs. She has helped hundreds of children become their best selves and to find joy in getting an education.
Mrs. Day worked for Southern Utah University Science Camp for about 20 years, instilling the love of science into many children. She has taught many student teachers about education and helped them become the best teachers they can be.
In her spare time, Misty loves to spend time with family. She loves volleyball, watching her children participate in their activities, serving others, and traveling. Misty always has a trip "in the cart" and is willing to go at any time. She has an amazing singing voice and has shared that talent with the whole community. She is truly a beautiful soul, inside and out! There is no one that deserves this award more than she does.
---
Door-sign-MSD-summer-hours

---
Summer-School-Flyer-2023

---
ATTENTION Parents of Kindergarteners for the 2023-2024 School Year
Dear Parents and Constituents,
Millard School District is pleased to be able to offer full-day kindergarten to all kindergarten aged students beginning with the 2023-2024 school year. Teachers have been hired and preparations are being made to accommodate all who wish to attend.
We will also offer the option of a half-day kindergarten which will be in the AM only. Students will be assigned to a regular kindergarten class but will be excused at midday. There will be an emphasis on critical kindergarten skills in the morning with time for interventions and extensions in the afternoon.
Because Millard School District is now designated as a Full-Day Kindergarten Program, transportation will be adjusted as follows.
All full-day kindergarten students will ride to and from school on existing routes.
Students who opt to attend half-day kindergarten will be eligible for transportation in the morning.
Midday transportation will depend on the number of students on each eligible route. (State funding is only available for routes with 10 or more students)
Transportation will be provided if there are 10 or more students on an eligible route.
If there are fewer than 10 students, parents will assume the responsibility of transporting their students at midday.
For more information about the benefits of full-day kindergarten, please visit this link.
Please note, preschool students do not receive funding for transportation and will therefore not be included in the midday count. However, if there is a midday bus available, preschool students may be transported. If no bus is available, parents will be responsible for midday transportation.
If you have further questions or concerns, please feel free to contact your school.
Fillmore Elementary (435) 743-5670
Delta South Elementary (435) 864-5670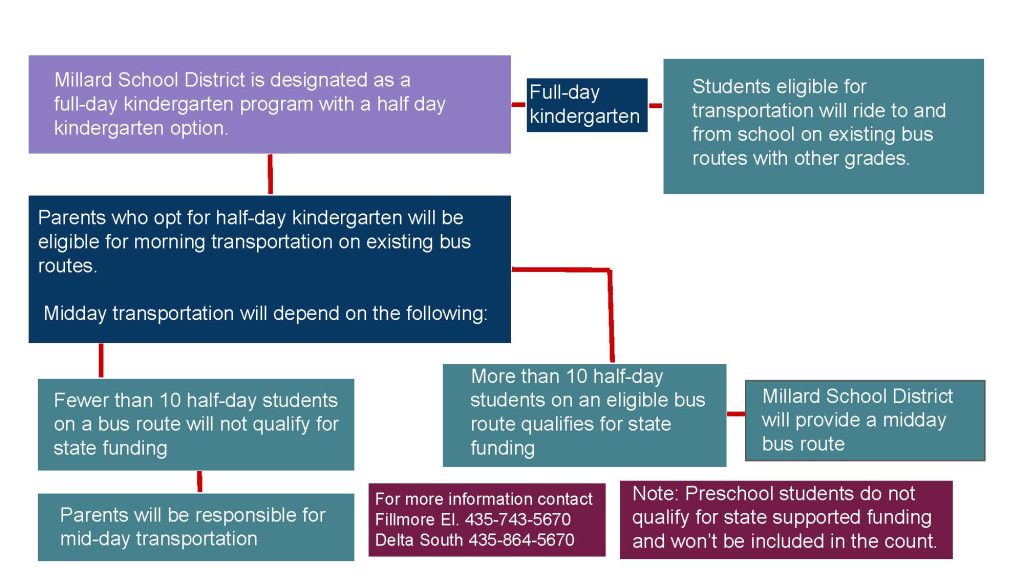 ---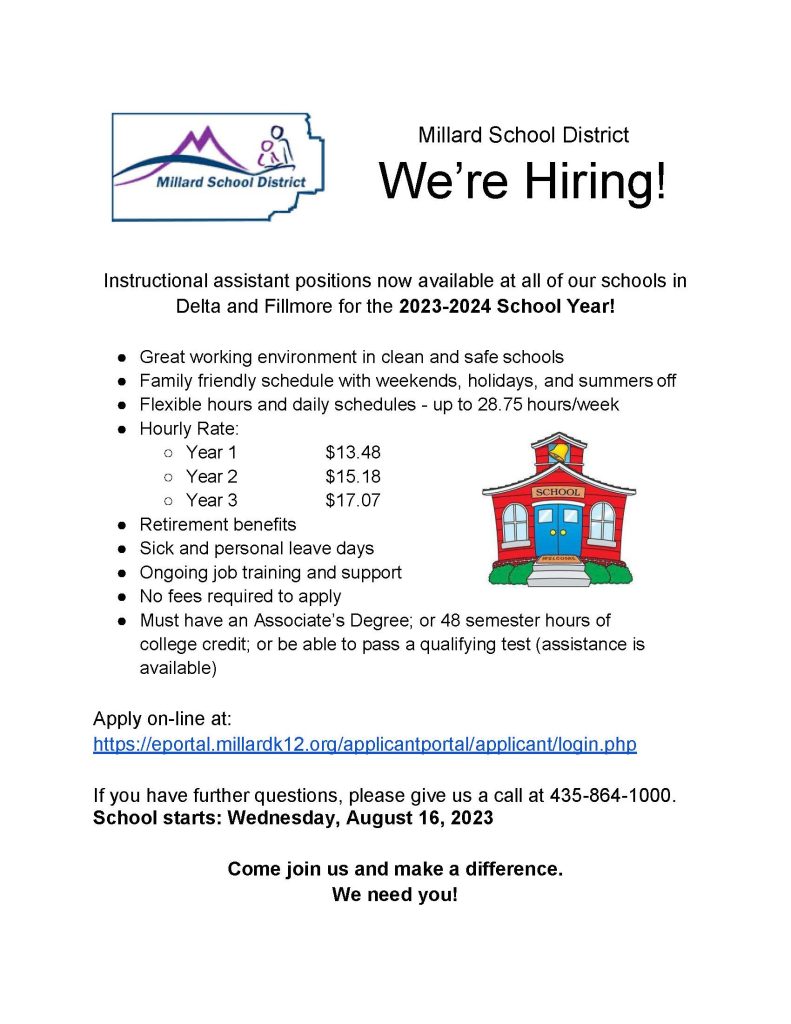 ---
Bond Election Explanation by Millard School District
March 10, 2023 – You have now seen two articles pertaining to possible building projects within the school district. We appreciate that the Chronicle-Progress has helped with the launching of these discussions. We have been considering the projects that we might propose over the course of several years. These projects are prompted fundamentally by the need for additional space and enhanced learning facilities, but have been of concern for some time. The two projects that we consider essential at this time are Fillmore Elementary School and Millard High School.
In a time of student population growth in our county, which we anticipate will only expand in coming years, these facilities are out of space. Fillmore Elementary, which has grown by 57 students in the past two years, will give up their last possible classroom space, their faculty room, as soon as there is an additional classroom needed at any grade level. We will propose an 8-10 classroom addition on this building to accommodate the growth of the coming years. This would provide space that if necessitated, could house the fifth grade for a period of time until we could also afford to expand the Fillmore Middle School. The projected cost of this construction would be between 5 and 7 million dollars. This would allow us to keep class sizes down and provide room for interventions and learning enhancements over the years as we fill the building with our growth.
It has been twelve years since we last proposed to rebuild the Millard High School academic building through the bonding process. The estimated cost to replace Millard High at that time was 14.8 million dollars. The square foot cost was about $150. When the bond was rejected, we were unable to make our funds extend to the entire reconstruction of Millard High, but used our Capitol Revenue to finance the new auxiliary gymnasium and a four classroom addition to help us with overcrowding. Millard High is again at capacity, and is not a building that is conducive to the use of technology, or learning in general. We are proposing to replace this portion of the Millard High complex. This replacement is now estimated at approximately $40 million, with a per square foot cost of over $400.
The capital revenues that we used to pay for the addition at Millard High and the replacement of the Delta High academic building are becoming available to us again. We made our final payment on one of the two lease revenue bonds in January, freeing up approximately 1.25 million per year. The second, much smaller bond, will be paid off in 2031 which will free an additional $574,000 per year. It is our intention to entirely fund these projects by using these funds, without asking our taxpayer to shoulder any rate increase. With a 35-year general obligation bond, we believe we can accomplish this. We will ask for the public's support of a general obligation bond because it allows us to get the most favorable interest rate over a period of time that assists us in the payment, but again, the bond will be paid with current funds, rolling the lease revenue funds into the proposed general obligation bond. Without voter support for a general obligation bond, the board could choose to move forward with these projects by again using lease revenue bonds. This is not the preferred course, because the fees, rates, and periods on these bonds would require an additional $4 million over the period of the bond. It is for this reason we anticipate asking the public to support a general obligation in the amount of 50-55 million in November. This is the amount we feel the district can carry without rate increases from our taxpayers.
This proposal seems very practical to the Board of Education at this time. We recognize that some may suggest we wait until we can set aside some funds, but with the inflation rate far outpacing the interest rate on savings, we fall behind in an attempt to save. It is better for us to build the buildings that we need now and to pay for them with the potentially inflated funds of the coming years. We also anticipate that the growth of our tax base in the coming years will allow us to fund additional projects that may be needed, without an increase in our tax rate.
We invite your input! Please visit with your board members, your administrators, or email us with your questions, concerns, or suggestions! We plan to hold future public meetings in Delta, Fillmore, and EskDale, in addition to your opportunity to participate in our monthly board meetings.
---