The Millard School District Office will be closed April 3-7, 2023, with our schools, for Spring Break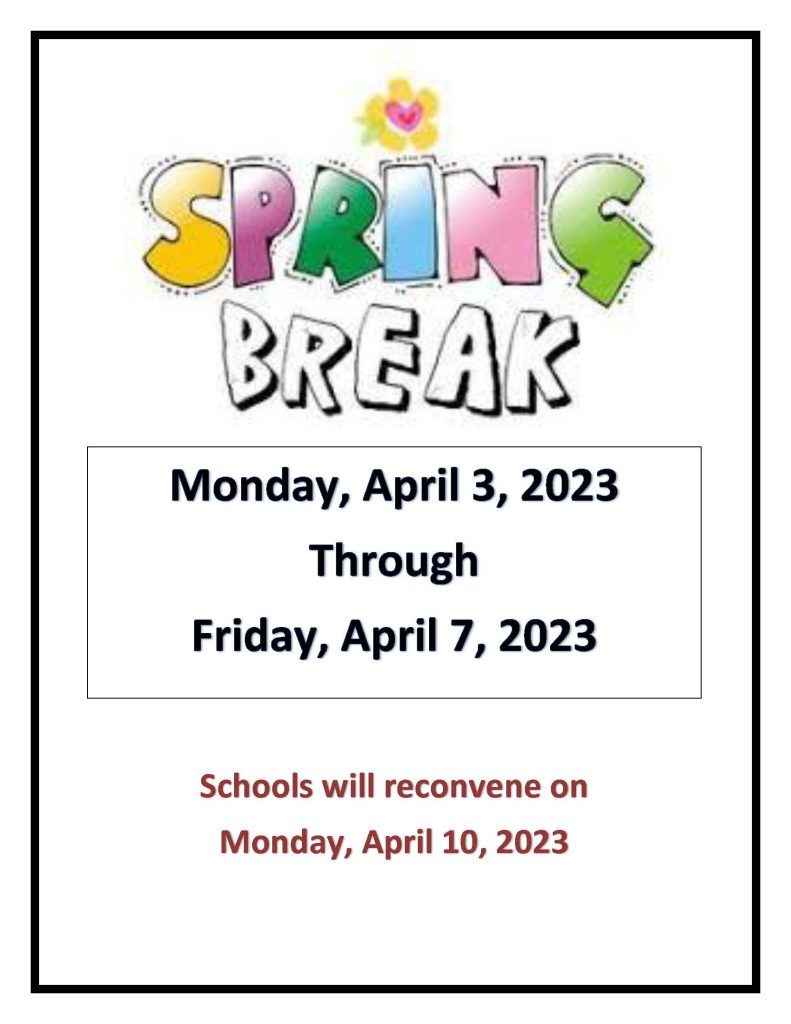 ---
UTAH INTERNET SPEED TEST CAMPAIGN
There is funding coming to Utah to increase high-speed internet accessibility! Help shape the
future of high-speed internet in your community. Visit speedtest.utah.gov to take the 60-second Utah
Internet Speed Test or share what internet connectivity is like where you live by taking a quick survey at
allonline.utah.gov. There are at least 386 more speed tests needed in Millard County by Friday, April 28.
Information is also available in Spanish. Don't have access to the internet? Please call Connecting Utah
at 435-264-8880.
Utah-Speed-Test-Campaign_Flyer_General-Information_11x17-1

---
Millard School District Holds Annual Spelling Bee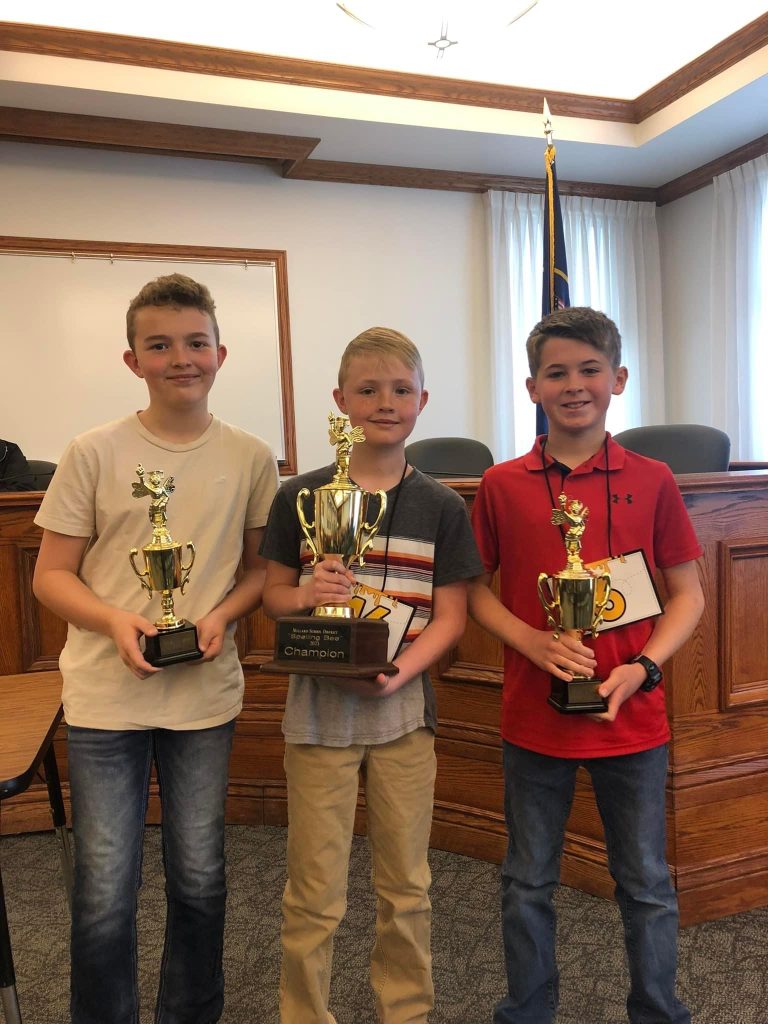 The Millard School District held its annual spelling bee on March 14, 2023 in the Millard School District Office. Thirty-three contestants from Delta North Elementary School, Fillmore Elementary School, and Delta Middle School, grades 3-8 participated in the competition. The competition was fierce, with all contestants putting forth their best effort. Every participant had to spell a variety of words, from short and easy to long and difficult, in order to advance to the next round. After a few rounds of intense competition, the top three contestants were placed.
The winner of this year's spelling bee was 5th-grader Hayes Holyoak with 4th-grader Cam Beckstrom 2nd place, and 7th-grader Mason Holyoak 3rd place. These students will be competing in the regional spelling bee on March 27, 2023 in Cedar City, Utah.
Each of the finalists received a trophy for their hard work and dedication. The Millard School District is proud of all the contestants who participated in the spelling bee. The contestants were: Ben Nelson, Noel Rowley, Jaren Dekker, Wesley Wilcox, Hyrum Stuart, Cam Beckstrom, Kolter Sumsion, Mason Holyoak, Paislee Whitaker, Hallie Blad, Desaree Chatwin, Teyl Petersen, Ryker Smith, Bella Atkinson, Finn Rawlinson, Hayes Holyoak, Kyson Hughes, Jake Harris, Hudson Bassett, Chloe Fako, Jens Allen, Cody Weaver, Eileen Burrows, Knox Corey, Juleysa Gamez, Ava Probert, T.J. Taylor, Alex Ralphs, Kaden Richins, Ella Stanworth, Jonah Finilnson, Eleanor Tolman, and Boston Thomas.
The district hopes this competition will help encourage students to further develop their reading skills and their knowledge of the English language. We're looking forward to seeing these students back next year!
---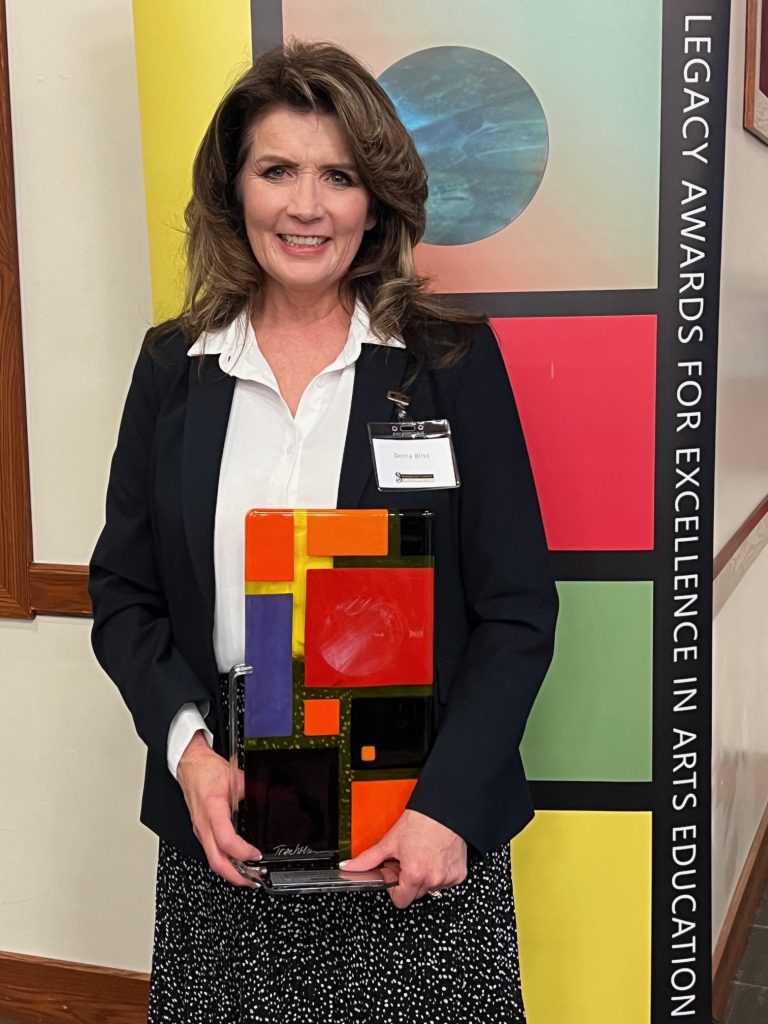 Delna Bliss Receives Prestigious Arts Award
Delna Bliss, Principal of Delta North Elementary School has been honored with the prestigious Beverly Taylor Sorenson Legacy Award for Outstanding Arts Administrator. This award is named in honor of Beverly Taylor Sorenson, a philanthropist and advocate for the arts who was dedicated to providing high-quality arts education to children and young adults. The award recognizes the achievements of individuals who share her passion and commitment to the arts in education. The Outstanding Arts Administrator Award is given annually to an individual who demonstrates excellence in leadership, vision, and advocacy.
Mrs. Bliss has been a champion of the arts during her tenure at Delta North, creating numerous programs and initiatives that have had a profound impact on students, teachers, and the larger community. Through the Beverly Taylor Sorenson Arts program, every student at the school has been introduced to dance. Each student at Delta North is taught a portion of their curriculum through the medium of dance, and these students then have the opportunity to present that curriculum to their parents as part of their frequent recital opportunities. Delta North has a Day of Dance each year that has been admired by all. Mrs. Bliss has initiated an arts team at her school. Students make art work each week and deliver their work to elderly people at our care facility each Wednesday. A school play takes place at the school, with annual participation around seventy-five students. Students at Delta North are taught the art of making quilts. Each year students participate in quilt making projects which tie over 100 quilts. These are then distributed to those in need in our community. Each of these initiatives is provided to give students additional exposure to the arts, and to the importance of sharing with others.
First and foremost, Mrs. Bliss is a person who loves children, and she takes every step possible to see they are provided with opportunities to learn and grow. Mrs. Bliss loves her students, and loves being their advocate. Her dedication to their success and their feelings of worth and acceptance is second to none. Her love and concern are shown for all students, from the best and brightest students to the most challenged and difficult. Mrs. Bliss has been an ambassador for arts and for education in every association and in every setting.
Mrs. Bliss was presented with the award at a ceremony on March 9th in Salt Lake City. The event brought together leaders from the arts education community to celebrate her achievements and recognize her contributions to the field. The Millard School District is proud of Ms. Bliss and her well-deserved recognition. Her leadership and dedication to the arts have made a lasting impact on her school and the larger community, and will continue to inspire future generations of arts educators and advocates.
---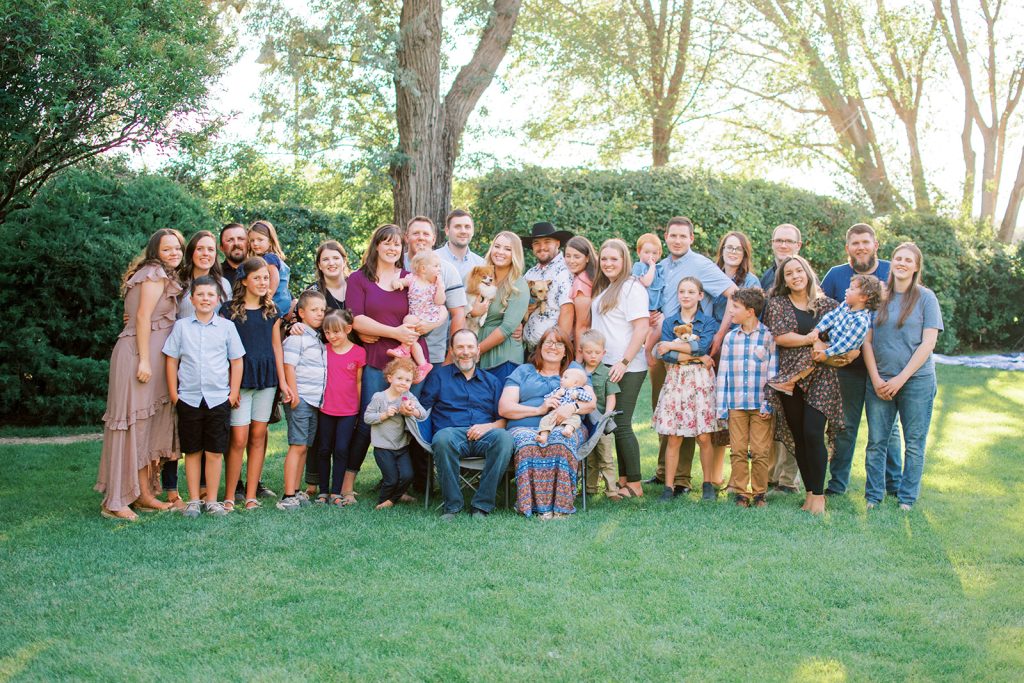 Mrs. Carolee Ferris Chosen as New Principal of Delta North Elementary School
March 9, 2023 – Millard School District is pleased to announce the selection of Mrs. Carolee Ferris as the Principal of Delta North Elementary School. She will be replacing Mrs. Delna Bliss who has accepted a District Director position with Millard School District.
Mrs. Ferris graduated from BYU in 1983 and taught Special Education for 5 years before moving to the Delta area and taking a break to raise her family. After returning to education, she worked as an Instructional assistant at Delta Middle School and went on to teach Special Education at Fillmore Middle and Delta Middle. She received a Masters of Education as well as an Administrative endorsement from SUU. She has also received her English as a Second Language, Elementary Math, and three reading endorsements. Mrs. Ferris has worked at Delta North Elementary School for the last 6 years as the curriculum coach, ESL coordinator, and administrative assistant.
Mrs. Carolee Ferris lives in Oak City and is married to Terry Ferris. They are the parents of 12 children, Dustin (Anky), Tyler (Kate), Sean (Evelyn), Aaron (Cordie), Stephen (Amy), Jarom (Carissa), Hailey, Ammon, Kaitlyn (Jerry), Nicole, Emma, and Faith. They have 22 grandchildren.
Mrs. Ferris has loved working at DNES and is excited to accept the position as principal. She is eager to continue to work with the wonderful faculty, staff, students, and parents.
Millard School District is excited to welcome Mrs. Ferris as the new principal and is looking forward to continued excellence from Delta North Elementary School!
---
Bond Election Explanation by Millard School District
March 10, 2023 – You have now seen two articles pertaining to possible building projects within the school district. We appreciate that the Chronicle-Progress has helped with the launching of these discussions. We have been considering the projects that we might propose over the course of several years. These projects are prompted fundamentally by the need for additional space and enhanced learning facilities, but have been of concern for some time. The two projects that we consider essential at this time are Fillmore Elementary School and Millard High School.
In a time of student population growth in our county, which we anticipate will only expand in coming years, these facilities are out of space. Fillmore Elementary, which has grown by 57 students in the past two years, will give up their last possible classroom space, their faculty room, as soon as there is an additional classroom needed at any grade level. We will propose an 8-10 classroom addition on this building to accommodate the growth of the coming years. This would provide space that if necessitated, could house the fifth grade for a period of time until we could also afford to expand the Fillmore Middle School. The projected cost of this construction would be between 5 and 7 million dollars. This would allow us to keep class sizes down and provide room for interventions and learning enhancements over the years as we fill the building with our growth.
It has been twelve years since we last proposed to rebuild the Millard High School academic building through the bonding process. The estimated cost to replace Millard High at that time was 14.8 million dollars. The square foot cost was about $150. When the bond was rejected, we were unable to make our funds extend to the entire reconstruction of Millard High, but used our Capitol Revenue to finance the new auxiliary gymnasium and a four classroom addition to help us with overcrowding. Millard High is again at capacity, and is not a building that is conducive to the use of technology, or learning in general. We are proposing to replace this portion of the Millard High complex. This replacement is now estimated at approximately $40 million, with a per square foot cost of over $400.
The capital revenues that we used to pay for the addition at Millard High and the replacement of the Delta High academic building are becoming available to us again. We made our final payment on one of the two lease revenue bonds in January, freeing up approximately 1.25 million per year. The second, much smaller bond, will be paid off in 2031 which will free an additional $574,000 per year. It is our intention to entirely fund these projects by using these funds, without asking our taxpayer to shoulder any rate increase. With a 35-year general obligation bond, we believe we can accomplish this. We will ask for the public's support of a general obligation bond because it allows us to get the most favorable interest rate over a period of time that assists us in the payment, but again, the bond will be paid with current funds, rolling the lease revenue funds into the proposed general obligation bond. Without voter support for a general obligation bond, the board could choose to move forward with these projects by again using lease revenue bonds. This is not the preferred course, because the fees, rates, and periods on these bonds would require an additional $4 million over the period of the bond. It is for this reason we anticipate asking the public to support a general obligation in the amount of 50-55 million in November. This is the amount we feel the district can carry without rate increases from our taxpayers.
This proposal seems very practical to the Board of Education at this time. We recognize that some may suggest we wait until we can set aside some funds, but with the inflation rate far outpacing the interest rate on savings, we fall behind in an attempt to save. It is better for us to build the buildings that we need now and to pay for them with the potentially inflated funds of the coming years. We also anticipate that the growth of our tax base in the coming years will allow us to fund additional projects that may be needed, without an increase in our tax rate.
We invite your input! Please visit with your board members, your administrators, or email us with your questions, concerns, or suggestions! We plan to hold future public meetings in Delta, Fillmore, and EskDale, in addition to your opportunity to participate in our monthly board meetings.
---